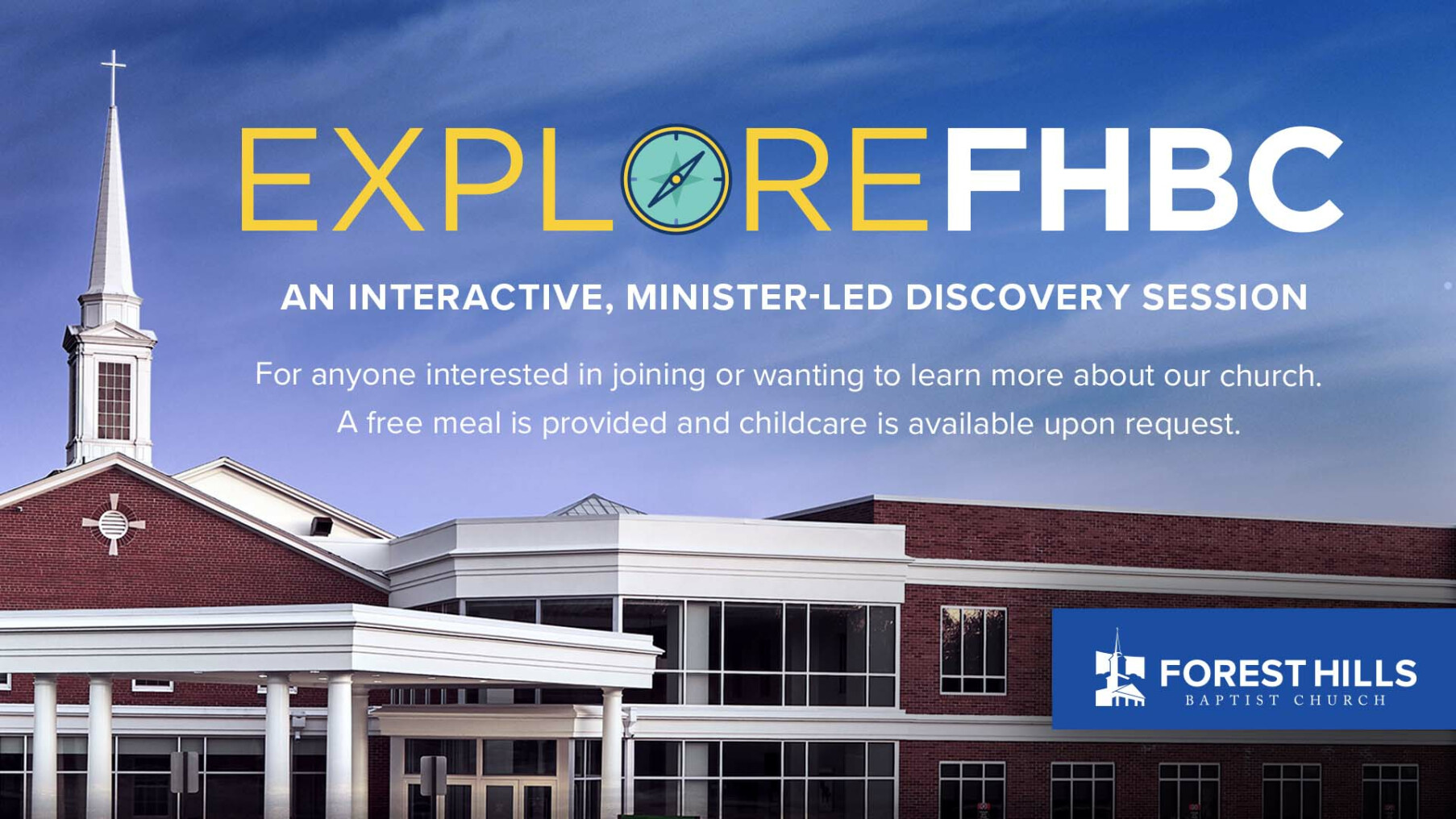 We can't wait for you to join us!
As followers of Christ, we are part of a universal church, joined together by faith with other believers around the world. But Scripture also commands us to be part of a local church.
At Forest Hills, membership is important because it unites us in the mission and ministry of the Gospel. Becoming a church member means you're done "kicking the tires" and you're ready to take the next step to enter purposeful fellowship with this family of believers. Together we will worship the Lord, grow in our faith, use our gifts in service, hold one another accountable, and proclaim the Gospel in fulfillment of the Great Commission. Our desire is that you would be engaged, inspired and equipped as we partner together in ministry to see Jesus Christ transform our community and beyond through the gospel-centered lives of our people.
---
Explore FHBC
Explore FHBC is the beginning of our membership process. In this membership class, you will have the opportunity to learn all about Forest Hills Baptist Church. You will be given an overview of our church's beliefs and ministries, as well as the opportunity to meet different staff members and key lay leaders of the church. We will explore our church's strategy, affiliations and covenant. This is a great way for us to connect with you, answer any questions concerning Forest Hills and help you begin your journey toward membership.
We offer Explore FHBC each month, either on a Sunday afternoon over lunch or on a weeknight night over dinner.
Childcare for preschoolers and activities for children and students are available upon request during the class times.
Upon completion of Explore FHBC, two of our ministers will arrange a meeting where we will have the opportunity to learn about you! You will have the chance to share how you came to know the Lord, how he has uniquely gifted you for service in the body of Christ and ask any other questions that have come to mind.
At the conclusion of our membership process, our ministers will recommend a candidate to be received by vote of the church following either your public profession of faith through baptism by immersion, transfer of letter of membership from a sister church or by public statement of your faith and previous baptism by immersion in another church of like beliefs and practices. The church votes to receive and celebrate new members at each quarterly business meeting.
Are you ready for the next step? Register at one of the upcoming Explore FHBC classes below!
Upcoming Explore FHBC dates:
Sunday, July 24 | 12-2:30pm – Register Here
Thursday, August 18 | 5-7:30pm – Register Here
Once S.H.A.P.E Test is complete, please email results to .