The history of Forest Hills Baptist Church is a testimony of the faithfulness of God and His people. We are here today because others who have gone before us had the vision of what God wanted to do on this corner.
Early in 1960, Forest Hills Baptist Church began as a mission of Woodmont Baptist Church. It was then called the Hillsboro Road Baptist Chapel. Dr. Joe Burton served as interim pastor and families met in the auditorium of Percy Priest School.
A constituting council met with the Chapel group in a tent meeting on September 18, 1960, and Forest Hills Baptist Church came into being with a total of 19 members. The location of the tent meeting was Old Hickory Boulevard and Hillsboro Road. This seven-acre property had been purchased by Woodmont Baptist Church for $16,000, and was sold to the new congregation for a "token payment" of $10.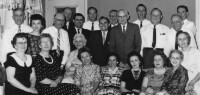 On December 1, 1960, the stone house on the north corner of Hillsboro Road and Old Hickory Boulevard was secured. After some modifications, the house served as both a sanctuary and Sunday School space; its basement housed a small fellowship hall.
In May 1961, the church voted to build a chapel and educational building. Groundbreaking services were held that September, and the dedication service was preached by Dr. G. Allen West on November, 18, 1962. The stone house was restored to a residence in 1962 and used as a parsonage until 1973. An additional education building was added in 1967.
With continuing growth, plans were made in the late 1970s to build a sanctuary, additional educational space and offices. Dedication services for this project were held on September 21, 1980.
In the early 1990s, Forest Hills Baptist Church experienced unprecedented growth. To meet the demand for space, property south of the church was purchased in November 1993 and used for youth classes and activities. In December 1994, a master planning committee was formed to study how Forest Hills could best reach lost and unchurched people in our community and provide opportunities to further the spiritual growth of each member. This study led to the decision to expand our facilities by constructing a preschool / children / youth building, a new Fellowship Hall, and a Family Life Center. These facilities were dedicated on January 11, 1998.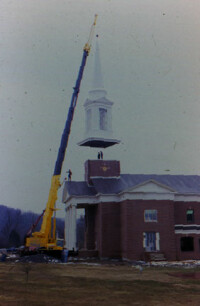 Additional property facing Old Hickory Boulevard to the west of the church was purchased in February 1999 for the purpose of expanding our parking area. Three additional acres facing Hillsboro Road to the south were purchased in February 2000. The home on that property has been refurbished for use by missionaries on state-side assignment and by our Room In The Inn Ministry.
Because attendance continued to increase, the decision was made to implement a dual Sunday School / worship service format effective September 3, 2000. In the fall of 2004, we planted a new church, Ridgeview Community Church in west Franklin, TN.
In 2010, Forest Hills moved from a deacon-led to an elder-led polity. Today, the elders are charged with the oversight of the operation and administration of the Church.
To expand our reach to the community, Forest Hills launched a contemporary worship service called ELEVATE in 2012. Both ELEVATE Worship and Sanctuary Worship operate simultaneously, making us one church with two worship styles.
With the continued expansion of our congregation, the capital campaign launched in 2017 to update our Sunday School space, renovate the ELEVATE Worship Center and provide a new main entrance to the building. In August 2019, the grand opening celebration opened the doors of our renovated building.
Our Pastors
Five senior pastors have led Forest Hills Baptist Church. The first pastor was Robert J. Daugherty. He served from 1961 until 1972 when he accepted an appointment as a missionary to Japan. In August 1974, Lloyd E. Lawrence became the church's second pastor. He retired in 1992. Dr. Jerry L. Winfield became the church's third pastor in April 1993 and left in January 2006 to accept a position with the Tennessee Baptist Children's Home. In April 2007, Forest Hills called Dr. Sam Boyd as its fourth senior pastor until his resignation in August 2019. Recently, the church body voted with an astounding 99.6% approval to name Jay Hardwick as our fifth Senior Pastor in December 2020.